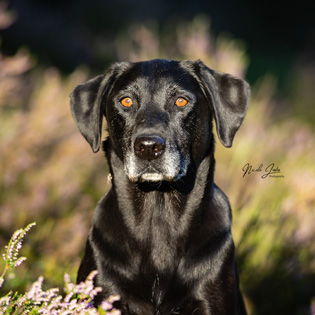 Int. FTCH Lesser Burdock Ansdell "Jodie"
dam: Ragweed's Trace
sire: FTCH Greenbriar Viper of Drakeshead
pet name: JODIE
born on 10/16/2009
Health results
HD-A, ED 0, OCD free
PRA, RD, CAT (eyes clear on 01/15/2016)
PRA prcd N/N, EIC N/N, SD2 N/N, CNM N/N
Work results:
winner with exc. CACT / CACIT of the 1st Austrian-Hungarian FT Championship in 2011
winner with exc. CACT/CACIT of the ICC in Montodine, Italy, in 2012
3 additional FT wins with exc. CACT / CACIT
top results in working tests beginners to open class
winner of the open mock trial in Grub in 2013
winner of the WT open class finals in Klam 2014
in the French winning team of the CLA Gundog Euro Challenge 2015 in Harewood House, England
Show / Confirmation:
"very good" at an international dog show in Oberwart in 2011
Description
I kept Jodie from my A-litter at that time. I could hardly decide which bitch to keep due to the fact that I was rather inexperienced in choosing puppies. As I figured out later on, Jodie was a great choice. She has got everything one seeks in a gundog who also runs successfully in FTs. Jodie has been mated twice so far and has had 17 puppies. In spring 2016 she will be mated one more time.
Jodie went into her well-deserved retirement two years ago. Nonetheless, she always accompanies us when we go picking-up or when we train the other dogs. She is still very eager to work. She has had 3 litters (see B-litter, D-litter, and F-litter) and gave birth to 24 puppies. Two of them, Beaver (B-litter) and Scully (F-litter), live with us.